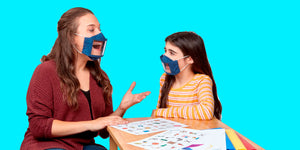 SHOP
Show Your Smile with a Clear Window Face Mask!
Who Needs a Smile Mask?
The Deaf and Hard of Hearing Community • Lip Readers • ASL Interpreters
Special Education Teachers • Speech Language Pathologists • Early Childhood Educators
Court Room Witnesses • Customer Service Workers • Anyone Wanting to Show their Smile!
We are Proud to Employ People with Autism and Speech/Language Challenges
Show My Smile™ is a Woman Owned Business